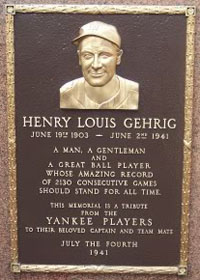 Name: Heinrich Ludwig Gehrig, anglicized to Henry Louis Gehrig
Date of Birth: June 19, 1903
Place of Birth: New York, New York (Manhattan)
Grew Up In: Same
Nationality: German
Position: 1st base
Batted: Left
Threw: Left
Nickname(s): Lou, Larrupin' Lou, the Iron Horse, the Iron Man, Biscuit Pants, Tanglefoots
Family: The son of immigrants, he was the only one of their four children to survive infancy. He married Eleanor Twitchell. They had no children.
Before He Was a Yankee: Went to New York City's High School of Commerce and Columbia University.
Acquired By Yankees: April 30, 1923, after Yankee scout Paul Krichell had seen him play 1st base and pitch for Columbia. A book that I read as a boy said Krichell had discovered him playing for Columbia against Rutgers in New Brunswick, New Jersey, and called up general manager Ed Barrow, and said, "I think I saw another Ruth today." More likely, Krichell had already seen Gehrig play a number of times, including the one in which he hit a home run out of Columbia's South Field and broke a campus building's window (dramatized in the film The Pride of the Yankees), and was convinced game by game. Maybe it was the game away to Rutgers that made him decide he had seen "another Ruth," but he hadn't seen him only on that day.
He made his Yankee debut on June 15, 1923. The Yankees beat the St. Louis Browns 10-0 at the newly-opened original Yankee Stadium. Herb Pennock pitched a shutout. Gehrig replaced Wally Pipp at 1st base late in the game, and didn't come to bat.
He bounced up and down between the Yankees and the minor leagues until June 1, 1925, when he pinch-hit for Pee Wee Wanninger. The next day, manager Miller Huggins put him at 1st to replace Pipp, who wasn't hitting. (The story about Pipp asking out of the lineup due to a headache is bogus. He did, however, get beaned in batting practice later in the season, so he did have a head injury. But not on June 2.)
Uniform Number(s) as a Yankee: 4. He was assigned the number due to his position in the batting order when the Yankees began wearing numbers in 1929, and he remains the only Yankee ever to wear that number.
The Yankees were assigned numbers based on their place in the batting order, and the 1st Yankees to wear them were as follows: 1, Earle Combs, center field; 2, Mark Koenig, shortstop; 3, Babe Ruth, right field; 4, Lou Gehrig, 1st base; 5, Bob Meusel, left field; 6, Tony Lazzeri, 2nd base; 7, Leo Durocher, 3rd base (yes, that Leo Durocher); 8, Johnny Grabowski, catcher. The backup catchers were Benny Bengough, who got 9, and Bill Dickey, who got 10, later switching to 8. Numbers were then assigned due to seniority, including the leading pitchers: 11, Herb Pennock; 12, Waite Hoyt; 14, George Pipgras. T
hese policies (batting order, then seniority) soon went by the wayside. The Yankees didn't issue the traditionally unlucky Number 13 until 1937, to pitcher Spud Chandler, who wore 21 for most of his career.
Yankee Achievements Include: A .340 lifetime batting average -- a figure that Cal Ripken Jr. reached in only one season. 493 home runs, and 1,995 runs batted in -- meaning his illness just deprived him of 500 homers and 2,000 RBIs. A career OPS+ of 179, fourth all-time behind Babe Ruth, Ted Williams and Barry Bonds*.
Set American League record for RBIs in a season: 173 in 1927, tied it in 1930, and raised to 185 in 1931. His 47 home runs in 1927 were then a record for anyone other than Ruth. In 1932, he became the first AL player to hit four home runs in a game, and he remains the only Yankee ever to do it. In 1934, he became the first Yankee to win the Triple Crown (leading his league in batting average, homers and RBIs); Mickey Mantle is the only other Yankee ever to do it. He was named AL Most Valuable Player in 1936. He appeared in the first six All-Star Games. His 2,721 hits were the most by a Yankee until surpassed by Derek Jeter.
And, in his most frequently cited feat, despite a number of injuries (including at least two beanings, broken fingers and lumbago), he played in 2,130 consecutive games, until he got sick and took himself out of the lineup. His last game was on April 30, 1939, at home against the Washington Senators, going 0-for-4 in a 3-2 Yankee loss.
The only color photo of him I could find.
All others are colorized, paintings, or faked.
Highest Salary: $36,000, which he received for the 1939 season even though he couldn't play beyond April. That's about $618,000 today.
Something you should know about him, if you don't already: Lou Gehrig almost played Tarzan. The jungle lord has been played by swimmers, including Johnny Weissmuller and Buster Crabbe, and on a 1960s TV series by Ron Ely. Certainly, a baseball player with a good physique would be worth the effort, and before his disease began to waste him away, Lou was as solid a man as had ever played any sport.
Gehrig hired Ruth's agent, Christy Walsh, to look for opportunities for him. Walsh knew that Metro-Goldwyn Mayer's film rights to Tarzan had run out, and so Weissmuller wouldn't be playing him anymore. So he had Lou take some pictures "in costume." Producer Sol Lesser now had the rights, and decided that Lou didn't look right. He did, however, cast Lou in a Western movie, Rawhide. (No connection to the 1950s TV series of the same name, which gave Clint Eastwood his big break.)
Tarzan creator Edgar Rice Burroughs was still alive, and saw the photos, and said, "I want to congratulate you on being a swell first baseman." Translation: "You, as Tarzan? Oh, hell, no!"
Yes, the pictures survive. Here's one.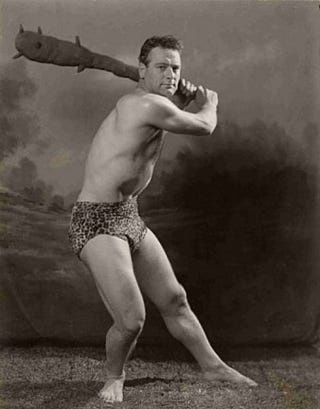 Left Yankees: In 1938, he had the kind of season that would have been great by nearly any other player's standards, but was a decline for him. He found himself getting tired more easily. At spring training in 1939, he was considerably slowed, and he told manager Joe McCarthy to take him out of the lineup for the May 2 game in Detroit. Unable to figure out what was wrong with him, he went to the already-famous Mayo Clinic in Rochester, Minnesota. He was diagnosed with amyotrophic lateral sclerosis, which breaks down the central nervous system, leading to advancing paralysis.
Lou Gehrig Appreciation Day was held between games of a 4th of July doubleheader. The Washington Senators won the first game, 3-2, and the Yankees won the nightcap, 11-1. During the ceremony, his Number 4 was retired.
At first, too moved to speak, Gehrig slowly walked to the microphone, and gave a speech whose brevity and profundity have given it comparisons to Abraham Lincoln's Gettysburg Address, opening, "For the past two weeks, you've been hearing about a bad break. Today, I consider myself the luckiest man on the face of the Earth." A crowd of 61,808 fans roared through their tears, although it has been suggested that it was not yet widely known that he was dying, only that he couldn't play anymore.
After He Was a Yankee: Late in 1939, he accepted an offer from Mayor Fiorello LaGuardia, a Bronx native and a big Yankee Fan, to serve on the New York City Parole Commission. He held the job from January 1940 until May 1941, when he was no longer even able to attend meetings in a wheelchair.
Died: June 2, 1941, at home in the Riverdale section of The Bronx, at age 37 (just short of 38). Considering how soon he died after being diagnosed, and how long some people have lived with the disease -- physicist Stephen Hawking has now lived over 50 years since his diagnosis -- some people have suggested that Lou was misdiagnosed, and that he was actually stricken with something else.
He is buried in Kensico Cemetery in Valhalla, Westchester County, New York, adjacent to the cemetery where Ruth is buried. Yankee owner Jacob Ruppert and general manager Ed Barrow are also buried at Kensico.
Eleanor never remarried. She raised money and awareness for ALS/Lou Gehrig's disease, and was introduced at every Yankee Old-Timers Day for the rest of her life. She died in 1984.
Monument Dedicated: It was meant to be dedicated on July 4, 1941, between games of a holiday doubleheader, as was done for his Day. The plaque even says, "JULY THE FOURTH 1941." But it rained, and the dedication was pushed back to the following Sunday, July 6, 1941.
The plaque on the Monument is brief in comparison to most later Yankee honors: "A man, a gentleman and a great ball player whose amazing record of 2130 consecutive games should stand for all time." Aside from the unplanned incorrectness of the date and the writing of "ball player" as two words instead of one, they couldn't assume that the streak record would never fall, so they had to say, "should stand for all time," instead of "will stand for all time." Ripken surpassed him on September 6, 1995. He raised it to 2,632 consecutive games, ending it in the Orioles' last home game of the 1998 season, against the Yankees, both of which were very appropriate. (His last major league game, in 2001, was also against the Yankees.)
Baseball Hall of Fame: Elected by a special vote of the Baseball Writers Association of America on December 7, 1939, because it was thought that he might not live to see the end of the waiting period. He was 36. To this day, only one other player has been elected younger, that being Sandy Koufax, younger by a few months.
Other Honors: East 161st Street between River Avenue and the Grand Concourse was renamed Lou Gehrig Plaza. In 1989, the U.S. Postal Service launched a Gehrig stamp.
In 1969, to celebrate the 100th Anniversary of professional baseball, a poll named him the greatest 1st baseman ever. In 1999, The Sporting News named him Number 6 on their list of the 100 Greatest Baseball Players -- trailing only Ruth, Willie Mays, Ty Cobb, Walter Johnson and Hank Aaron. That same year, fan balloting named him the starting first baseman on the All-Century Team -- and he ended up getting more votes for it than any other player, including Ruth.

Depictions: In 1942, the film The Pride of the Yankees was released. Gary Cooper played Lou. Although he was one of America's finest actors and looked a bit like him, he didn't sound like him (he didn't have the Noo Yawk accent), and had never played baseball before. He looked so bad swinging a bat lefthanded that they put a reverse Yankee uniform on him, filmed him batting righthanded, switched the film around so it would look right, and then cut to actual game action (as would be done decades later for The Bronx Is Burning). The film ends with the speech, and while most of the points made in the real speech are there, the text is somewhat rewritten. The key line is moved from near the beginning to the end.

Teresa Wright played Eleanor. Yankees Babe Ruth, Bob Meusel, Mark Koenig and Bill Dickey -- Gehrig's best friend, and the closest thing the team had to a captain after his retirement -- played themselves. Ironically, Douglas Croft, who played Lou as a boy (and appeared in the 1943 Batman serials, the first actor to play Robin), would also die at age 37, in 1963.

Oddly, Lou did not appear as a character in the 1948 film The Babe Ruth Story. In the 1991 TV-movie Babe Ruth -- the least lame film made about Ruth, which isn't saying much -- he was played by Neal McDonough; in the 1992 theatrical release The Babe, he was played by Michael McGrady.

In 1956, the early TV anthology series Climax! -- also the first forum to feature a live-action James Bond, starring Barry Nelson in a 1955 version of Casino Royale -- featured "The Lou Gehrig Story," starring Wendell Corey as the Iron Horse.

In 1978, Eleanor's memoir My Luke and I was made into a TV-movie, A Love Affair: The Eleanor and Lou Gehrig Story. Lou was played by Edward Herrmann, and Eleanor by Blythe Danner (Gwyneth Paltrow's mother). Unlike The Pride of the Yankees, which showed Lou's mother Christina as supportive of her son's dream though preferring he'd become "an engineer like your Uncle Otto," this one showed that she was a nasty woman who didn't like Eleanor at all. But it also showed that Eleanor was her match. David Ogden Stiers, then playing Charles Emerson Winchester III on M*A*S*H, and like Herrmann later a renowned documentary narrator, also played a doctor in this one, Charles Mayo. Unlike the Cooper film, this one shows Herrmann, as Gehrig, struggling for breath and dying.

Quote of Note: "I might have been given a bad break, but I've got an awful lot to live for. Thank you."